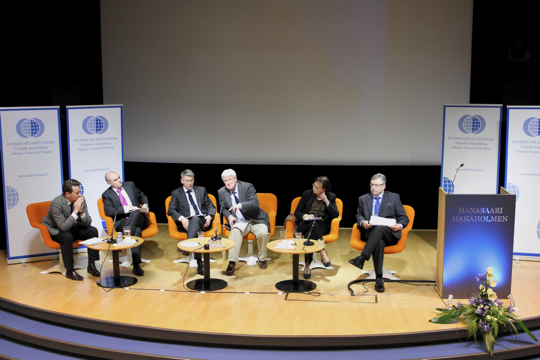 EVENTS IN 2012
14.12.2012
Annual Autumn Meeting of Atlantic Council of Finland

Board of Directors for the year 2013:
Chairperson: Mrs Liisa Jaakonsaari, buy Member of the European Parliament
Members of the Board:
Dr. Tuomas Forsberg, Professor, University of Tampere
Mr Jari Haapiainen, Senior Officer, International Affairs
Mr Henrik Lax, Member of the European Parliament (2004 – 2009)
Mr Max Mickelsson, Director, Corporate Affairs, Microsoft Oy
Ms Helena Partanen, Defence Counsellor, Ministry of Defence of Finland
Dr. Jari Rantapelkonen, Professor, National Defence College of Finland
Dr. Pentti Sadeniemi
Mr Pertti Salolainen, MP, Vice-Chair, Foreign Affairs Comittee, Parliament of Finland, Minister (Hon.), Ambassador (ret.)
Mr Veli Sundbäck, Ambassador (ret.)
Mr Lauri Tierala, Senior Political Adviser to Minister for European Affairs and Foreign Trade at Prime Minister's Office
Mr Jukka Valtasaari, Ambassador (ret.)
Secretary General:
Ms Terhi Suominen, M.Pol.Sc.
Venue: G 18 Juhlasali, Helsinki
14.12.2012
Suomalaisten muuttumattomat asenteet?
Puhuja: Heli Santala, Pääsihteeri, Maanpuolustustiedotuksen suunnittelukunta, Puolustusministeriö
Paikka: G18 Juhlasali, Helsinki
23.11.2012
Conference: Nordic Security Cooperation = Smart Defence?
Welcoming words: Mr Kimmo Sasi, MP, President of the Nordic Council
Chair of the conference: Mr Pertti Salolainen, Minister (Hon.), Vice-Chair of the Foreign Affairs Committee in the Parliament of Finland, Vice-Chair of the Atlantic Council of Finland
Keynote speech: Dr. Erkki Tuomioja, Minister for Foreign Affairs, Ministry for Foreign Affairs of Finland
>> Speech by Minister Tuomioja
Presentations:
Dr. Henrik Breitenbauch, Senior Research Fellow, Centre for Military Studies, University of Copenhagen
Mr Ernst Egelid, Commander, Department of Security Policy, Ministry of Defence of Norway
Dr. Tuomas Forsberg, Professor, University of Tampere
Mrs Helena Partanen, Defence Counsellor, Director of International Policy Unit, Ministry of Defence of Finland, Member of the ACF board of directors
Dr. Tomas Ries, Senior Lecturer, Swedish National Defence College
Closing remarks: Mr Pertti Salolainen, Minister (Hon.), Vice-Chair, Foreign Affairs Committee, Parliament of Finland, Vice-Chair of the Atlantic Council of Finland
Venue: Hanasaari – Swedish-Finnish Cultural Centre, Espoo
The conference was organised in cooperation with Danish Atlantic Treaty Association, Norwegian Atlantic Committee, Swedish Atlantic Council and Hanasaari – Swedish-Finnish Cultural Centre
>> Conference news report broadcasted by the Finnish TV channel MTV3 (in Finnish)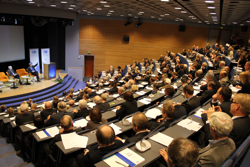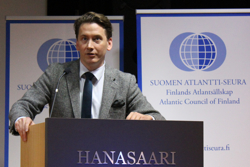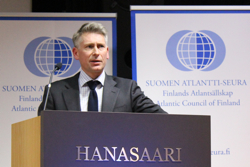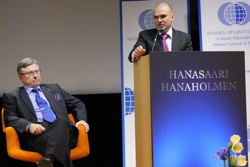 2.11.2012
EU:n ulkosuhteet – Yhdellä äänellä puhumisen vaikeus
Avaussanat: Sari Artjoki, Vt. päällikkö, Euroopan komission Suomen-edustusto
Puhujat:
Piritta Asunmaa, Suurlähettiläs, poliittisten- ja turvallisuusasioiden komitea, Suomen pysyvä edustusto Euroopan unionissa
Mika-Markus Leinonen, Johtaja, EU:n siviilikriisinhallintakomitea, Euroopan unionin neuvoston pääsihteeristö
Liisa Jaakonsaari, Euroopan parlamentin jäsen, Suomen Atlantti-Seuran puheenjohtaja
Puheenjohtaja: Pekka Nurminen, Päällikkö, Euroopan parlamentin Suomen-tiedotustoimisto
Paikka: Eurooppasali, Helsinki
Järjestäjät: Suomen Atlantti-Seura, Eurooppalainen Suomi ry, Euroopan komission Suomen-edustusto ja Euroopan parlamentin Suomen-tiedotustoimisto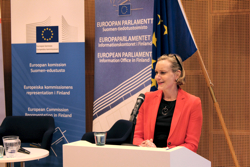 18.9.2012
Morning coffee event: Europe in U.S. Presidential Election
Speakers:
Ms Linda Moore Forbes, Democratic Party
Ms Ann E. W. Stone, Republican Party
Chair: Mr Pertti Salolainen, Minister (Hon.), Vice-Chair, Foreign Affairs Committee, Parliament of Finland, Vice-Chair of the Atlantic Council of Finland
Venue: Ekberg Extra, Helsinki
The program was kindly supported by the U.S. Embassy in Finland
3.7.2012
Atlantic Council of Finland launched a new publication Ett Nytt Nato? (a New NATO?). Ett Nytt Nato is a Swedish translation of the Finnish Uusi Nato? (a New NATO?) -report. The publication is written by Ms Karoliina Honkanen and Mr Janne Kuusela.
>> Ett Nytt Nato -report (pdf)
8.6.2012 
Minister (Hon.), Ambassador Jaakko Iloniemi's 80th Anniversary Conference:
Europe and Global Challenges
Speakers:
H.E. Martti Ahtisaari, former President of the Republic of Finland, Nobel Peace Prize Laureate
Mr Robert Hunter, former U.S. Ambassador to NATO, former U.S. Representative to the Western European Union
Prof. Martti Häikiö, Chair of the Paasikivi Society
Mr Jaakko Iloniemi, Minister (Hon.), Ambassador (ret.)
Mrs Liisa Jaakonsaari, Member of the European Parliament, Chairperson of the Atlantic Council of Finland
Mr Juhani Kaskeala, Admiral (ret.), former Commander of the Finnish Defence Forces
Dr. Erkki Tuomioja, Minister for Foreign Affairs, Ministry for Foreign Affairs of Finland
Chair: Mr Jukka Valtasaari, former Ambassador of Finland to the U.S., Former Secretary of State, Ministry for Foreign Affairs of Finland
Venue: Finlandia Hall, Helsinki
The conference was organized in cooperation with Paasikivi Society
The conference was organized by the kind support of Finnish Business and Policy Forum EVA, Ministry for Foreign Affairs of Finland and Nordea
14.5.2012
Atlantic Council of Finland Annual Spring Meeting
Venue: G18, Helsinki
14.5.2012
Uusi järjestys: USA, Nato ja Eurooppa G2-maailmassa
Puhuja: Matti Apunen, Johtaja, Elinkeinoelämän valtuuskunta EVA
>> Matti Apusen puhe (pdf)
Paikka: G18 Juhlasali, Helsinki
14.3.2012
U.S. Military Presence in Europe
Keynote speaker: Mr Michael C. Ryan, Deputy Director, ECJ-5/8 Security Cooperation and ODC Operations, U.S. European Command (EUCOM)
Chair: Mrs Helena Partanen, Defence Counsellor, Director of International Policy Unit, Ministry of Defence of Finland and Member of the ACF board of directors
Venue: Ekberg Extra, Helsinki